Essay | 文章
> FEAST Artist Feature: Chee Wang Ng - Ashley Dunomes
FEAST Artist Feature: Chee Wang Ng
- Ashley Dunomes
July 27, 2015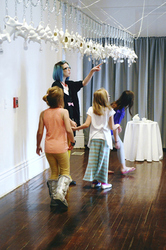 A New York-based artist currently participating in More Art's 2015 Engaging Artists program, Chee Wang Ng doesn't let location or multiple projects slow him down.
"We are all focused on working 24/7—a constant. Sleep is overrated and another show is done," Ng says.
In the past few years, Ng explored different mediums for various exhibitions that Lexington Art League (LAL) showcased. He displayed his video "
108 Global Rice Bowls
", and for SITE, he presented a walk-in labyrinth entitled "
The Three Hundred and Sixty Walks of Life Labyrinth
". For Ng,
FEAST: Pleasure + Hunger + Ritual
opened at just the right time, and he had the perfect piece for it.
"I had just finished writing the proposal for '
In The Name of Our Forefathers - Clear Tea Light Rice
', and LAL was looking for work with food as the theme of the show. It was not created with any particular site in mind. When Becky Alley, curator, chose it for FEAST, I sort of thought that it might work in LAL's long hallway. It turned out to fit so well," Ng says.
"
In The Name of Our Forefathers - Clear Tea Light Rice
" involves the hanging of 60 cow creamers of different origins and time periods in order to represent the deplorable discrimination that Chinese migrants faced from the 1800s and on. Western nations such as Spain, France, England, and the United States enslaved, lynched, and trafficked in Chinese migrants. Ng utilizes this piece as a chance to inform his audience of the appalling treatment Chinese people faced during this time, and as a result, are still recovering from.
"We all share the same human value and dignity and seek the same social equality of a just and progressive society," Ng says.
Even though Ng wasn't able to be present for the opening of the exhibition because of his artist residency program, he was still able to view pictures from the night.
"It was most interesting seeing the audience interacting with the cow creamer. This would not be my first installation where the audience just could not help themselves. My work is very interactive and sort of invites the audience members to play with it," Ng says.
Ng takes advantage of the interactive aspect of his artwork by making sure each piece carries a theme that his audience can identify with.
"As much as my work is about self-identity, it is also about reaching out and relating to people. This may seem simple, but it is packed with the complexities of layers upon layers of narratives. A certain visual vocabulary runs through all the various mediums in my work, I let the medium carry the message," Ng says.
Unfortunately, as many artists soon find out, not everyone will understand the message behind a particular work. Ng takes it all in stride, though.
"I can present my work in a certain way, and the audience will still have other ways to perceive it—the beauty of contemporary art," Ng says.
Sometimes, the original intention behind the creation of a new project evolves, and Ng is left with a surprising but welcomed finished project.
"I structure my work for the clarity but the magic is when the work goes beyond my original thought—the unexpected, the chance encounter, the moment of creation in which all these parts just come together. A prime example would be this cow creamer garland—now that it is done, all the different elements fit together so well but for the longest time, I could not explain nor express this 'cow sense' to anybody, but when it is done, you see how simple and logical all these are interlinked—like our lives," Ng says.
This isn't the last time people will see "
The Name of Our Forefathers - Clear Tea Light Rice
". Ng is already on the move to showcase his art at other institutions.
"As an artist, you always build upon your older work. I am lucky to have already been booked for a few other shows in which I will improve upon this and also adjust and adapt to each new site," Ng says.
While he's having his artwork featured at different exhibitions, he is also starting on a new project.
"I am already deep in structuring a new project in my art residency which I am pretty excited about—working with seniors but still within my discourse," Ng says.
Ng has his own advice for aspiring, young artists seeking to reach the level of success and influence that his artwork has: "Life is art making, never stop."
http://www.lexingtonartleague.org/art-stories/feast-artist-feature-chee-wang-ng